Cats are part of our family, they won't come into your room (except if you invite them !). You will meet them both in the house and the garden. We would like it to be a unique moment for you to share with them. Most of our cats are old and calm. We are very attached to the animal cause and for several years active in our local association les chats du Pélerin. We like our guests to be aware of the cats well-being. You have perhaps noticed that all our rooms are named after cats.
Cachmire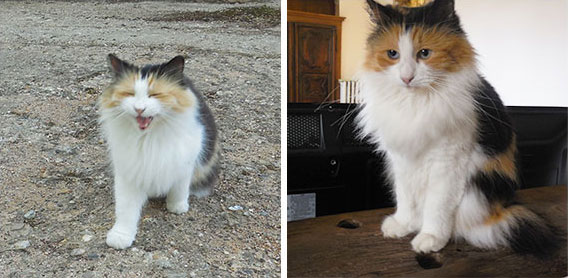 9 years old – A three coloured female adopted as a kitten, with a strong character. She is like an opera singer, she lets you know if something doesn't suit her. Otherwise she is rather timid and needs time to get used to people.
Cachou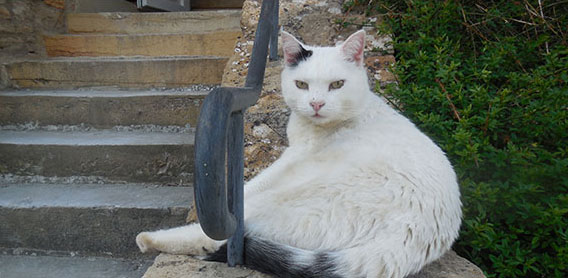 12 years old – A white male with a black tail. We found him in the forest when he was 6 weeks old,and only now is he approaching people and allows you to cuddle him and he seems to appreciate it … he also loves to catch mice !
Alyssa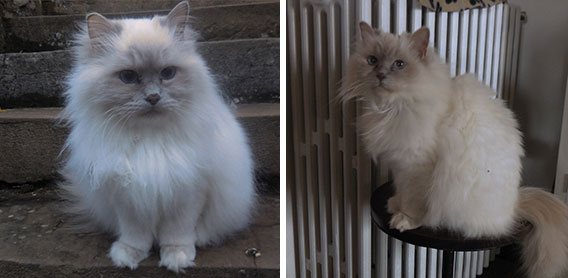 15 years old – Female sacred cat of Burma, saved from an illegal cat breeder who kept them in really bad conditions. She is now beautifull again qnd enjoys every moment of her life. A little cat with a strong will.
Misha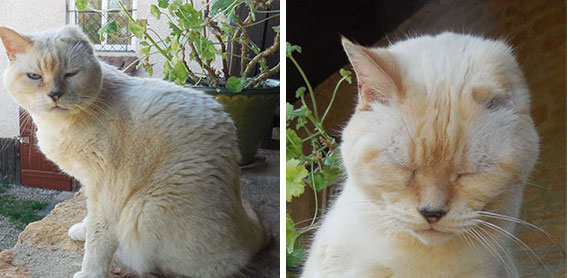 15 years old – creamy coloured male, he was adopted from a shelter and has found a peaceful place to retire, a big sweet Teddy Bear. Joined the family in 2018 and died one year later.
Lila
13 years – white and Tabby female, was a stray cat for a long time I suppose .. by the look of her ears … she is a calm and independant lady who just likes to sleep in a warm place, and we think she deserves it !
R.I.P. Elina and Dora
From time to time, we temporarly welcome sick cats in order for them to have a good end of life in a loving family, always better that an inpersonal shelter